AEZ Technology How an aluminium bar becomes a design rim
Rims are still one of the most popular and simple ways of putting some oomph into one's car. We usually get into our cars without ever giving a thought to their bearers. To put it crudely, the wheels are the feet of a car. If a foot is tilted or even injured it results in a continuous change of geometry. Therefore, premium alloy wheel manufacturer AEZ is committed to the highest quality requirements. Not only do they correspond to legal regulations, they even exceed them.

Before you select your desired rim have a look at the information below and find out what really counts.

Model Wheel Process
---
The history of a wheel begins with the design idea.
A product design specification is evolved which contains the basic definition and optimal performance of the design and the technical construction of the wheel.

Production of alloy rims
---
AEZ
light alloy rims are manufactured using the permanent mold casting method. This type of casting differentiates between gravity and low-pressure casting. In both cases the mold is filled with a molten aluminium alloy. Once the wheel is cast the mold is removed and each wheel reworked and finished hand-made. A permanent mold is manufactured from steel and can be used more than 60,000 times for a single wheel design.
Safety and TÜV
---
Safety and TÜV
Top-quality base materials are a prerequisite for best quality. Therefore, AEZ uses only aluminium from certified suppliers. Tested under the toughest conditions, each AEZ rim, naturally, gets a TÜV certificate, ensuring safety in daily use.

The most important tests
The radial fatigue test simulates the lateral forces acting on the wheel during cornering. The rolling test simulates the load of a wheel when driving straight ahead. The impact test simulates contacting the boardwalk, and during the final trial ride every vehicle available on the market is tested with the different wheels, determining the correct offset, tyres and requirements.

Alloy rims in winter?
---
How well
AEZ
alloy wheels are protected thanks to the SRC paint is revealed by, for example, the salt spray test on a scratched surface in accordance with CASS and the fact that all paints are pre-tested for corrosion resistance by independent, external labs in accordance with ECE-R124. The test is a 300-hour "hell" of stone chips, salt, acetic acid and copper chloride.
Tyre pressure monitoring systems (TPMS)
---
Since November 1, 2014, an EU Directive rules that all new passenger car models must be equipped with a tyre pressure monitoring system (TPMS). Since early 2012, all
AEZ
wheels have been prepared to include the required wireless sensors (direct TPMS), and the relevant information is noted down in the TÜV certificates.
Snow chains
---
A snow chain fitted according to regulations poses no problems to an
AEZ
wheel. Depending on the respective car, at
AEZ
we make sure that "ease of movement for snow chains" is established in the TÜV certificate already.
Cleaning and care
---
The best and most durable of paints cannot replace one thing – alloy wheel care. Under no circumstances aggressive chemicals, abrasive cleaners and the like are to be used. These may impair appearance and the rim material. When storing rims, they should be cleaned first and kept in a dry place.
Repairing rims
---
Every interference in the rim material (heating, welding, material addition, even engravings, etchings and grinding) changes the material properties. This invalidates the strength test certificate and warranty. As a result, the wheel owner loses all liability and warranty claims. Owing to these facts and due to our responsibility towards our customers we strongly advise against any rim repairs.
Construction of a light alloy wheel
Erläuterung und Funktion der Bestandteile
Rim description:
e.g. 7.5Jx17H2
7.5
Nominal width
(rim width)
17
Nominal diameter
of the wheel
H2
Double hump
(individual hump design)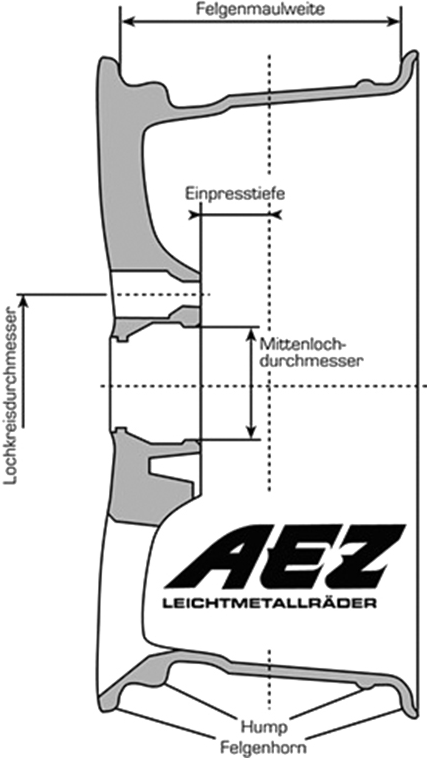 RIM WIDTH
The rim width describes the inner distance of the two rim flanges. It also denotes the nominal width of a rim.
HUMP
The hump prevents the tyre from slipping off the alloy rim under the influence of strong lateral forces (e.g. cornering) and an associated sudden loss of air pressure. Various versions are available.
PITCH CIRCLE DIAMETER
States the diameter or the number of the bolts mounted to the wheel hub of the respective car.
CENTRE HOLE DIAMETER
In an effort to remain as flexible as possible, AEZ uses reduction rings. This means that a single hole in the rim enables the use of several (basic ring system) centre hole diameters.
FLANGE
The flange is the thickened outer or inner edge of a rim. On a car, the outer edge is used to attach the counterbalancing weights.
OFFSET (ET)
Marks the distance between the hub-mounting surface and the rim's true centreline. This measure is very important as it determines the positioning of the wheel on a car.
AEZ QualityThe highest quality standards in wheel design
ALCAR Wheels GMBH's product strategy is to deliver wheels that adhere to the highest possible quality standards. We subject our wheels to a number of tests and processes to ensure that these high quality standards are constantly met.

It starts by perfectly organising our wheel design development. All of our production partners (also subject to mandatory ISO 9001 certification) share our high quality standards as well. During production, we continuously test our wheels to make sure that they conform to size specifications and that the materials are homogenous. We also carry out a factory exit check to ensure that the wheels are of proper density and are free from visible defects. Before delivery all AEZ alloy wheels undergo stress tests involving 200,000 load cycles performed by TUV. An impact test is also carried out simulating a collision with a curb stone.
Only when our wheels pass all of these tests are they delivered to our customers all over the world from our modern distribution high-bay storage in Balve.
These tests, coupled with our untiring efforts to continually develop all of our designer wheels on the market, form the cornerstones of AEZ's quality assurance policies. In doing so, we can meet the demands of our customers and keep the highest engineering standards compatible with attractive wheel designs.

ISO Certificate 9001

The ALCAR Wheels GMBH is certified for their quality management by the German technical certification institute TUEV. This certification is renewed on an annual basis and guarantees continuous improvements in the development of our wheel designs and in customer service.

Youtube:
Please update your privacy settings to use this option.
More